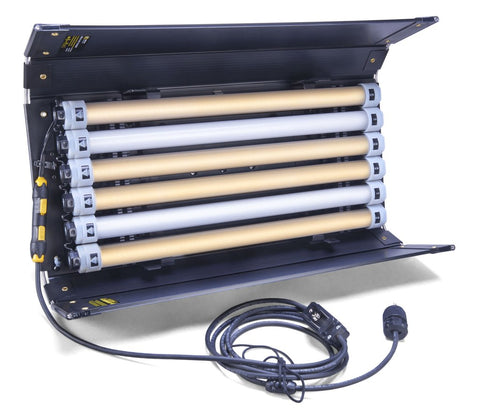 QUASAR SCIENCE KINO-FLO WITH MODIFIED Q-LED SYSTEM 4' Long 6 Bank
SKU:
12117
---
---
Description
BUILD TO ORDER
Kino-Flo's Shells.. Quasar Lamps... Plus... More Quasar Lamps!!
Our Modified Kino-Flo/Quasar Fixtures add 50% more lamps into the traditional Kino-Flo Remote Fixture Shell.
Utilizing our Q-Blocks mounting clips and a bit of elbow grease, we are able to pack 6 linear LED lamps into a 4 Bank shell, 3 lamps into a Double shell and 2 lamps into the Single for some extra punch.
The combination of Kino-Flo's tried and tested remote systems with QSR's Q-LED Linear Lamps were simply meant to be. No more lugging around ballasts or swapping lamps from kelvin to kelvin. Breath new life into your old Kino package with our high output, dimmer compatible LED lamps.
Available with Q-LED Crossfade.
Sizes: 
Long 6 - 4ft 6 Bank w/ Power 6 Adaptor
Long 3 - 4ft 3 Bank w/ Power 3 Adaptor
Short 6 - 2ft 6 Bank w/ Power 6 Adaptor
Short 3 - 2ft 3 Bank w/ Power 3 Adaptor
What is Included:
Q-LED Linear Lamps - X-Fade
--2 Q-Boots per lamp
--1- Individual Power Adaptor per lamp
1 - Cluster Power Adaptor for 3 or 6 Lamps
1 - Kino Flo Shell
1 - Kino Flo Mounting Backplate with Baby Receiver 
1 - Kino Flo 90° Honeycomb Louver on 6 Bank or Classic Black Louver on 3 Bank and 2 Bank
High CRI/TLCI
Flicker Free
Compatible with most dimming systems 
25,000 + Hour Lifetime
Reviews