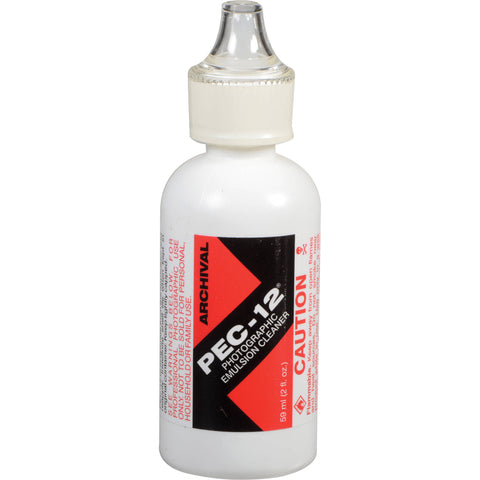 Photographic Solutions PEC-12 Photographic Emulsion Cleaner (2 oz Bottle)
SKU:
3980
---
---
Description
Helping to quickly and easily remove non-water-based stains from photographic film and prints, this 2 oz bottle of PEC-12 Photographic Emulsion Cleaner from Photographic Solutions features a dropper tip for applying this non-water-based solution to a variety of surfaces. Since this cleaning liquid is not water-based, it dries instantly, does not stain or leave residue, and will not swell the emulsions of prints or color or black and white film. Additionally, PEC-12 is archival and will maintain the original media's condition while removing an array of defects, including grease pencil, adhesive residue, finger oils, ballpoint pen, fungus, smoke and soot damage, laser separation oil, and many permanent inks.
This waterless photographic emulsion cleaner is suitable for most print and film emulsions, and is comprised of a blend of organic hydrocarbon solvents, with a neutral pH value, and is free from chlorofluorocarbons and chlorinated hydrocarbons.
Solvent-based cleaner dries instantly without residue and will not cause swelling, tackiness, water marks, or other damage to the emulsion.
Designed to remove non-water-based stains, grease, and inks from photographic emulsions, such as finger oils, grease pencil, adhesive tape residue, mildew, smoke and soot damage, gold foil stamp, most ballpoint pen and permanent inks, wax, and Rubylith.
PEC-12 is a halogen-free stable solvent, contains no carcinogens, and has a nearly indefinite shelf life when tightly sealed. It is flammable and hygroscopic; proper care should be taken during use and when storing.
Reviews